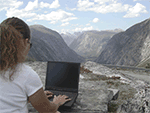 Wherever you are, wherever we are...We can serve you!
We are a team of developers, web designers, system and security experts based in Poland.
Our team members have extensive experience in designing and developing Asp.Net applications and DotNetNuke modules as well as in setting up, securing and maintaining systems and networks.
Remote assistance
We can help solve problems with DotNetNuke installation or administration and also with security of your server system.
Wherever you are, we can connect and help - 24 x 7 x 365 !