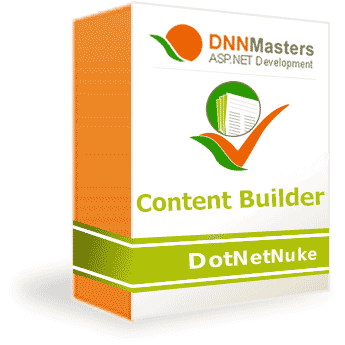 Module Overview
DNNMasters Content Builder Pro is an advanced content management module that allows flexible content organization, publishing, presentation and syndication.
Common content such as articles, news, announcements, press releases, etc can be organized into unlimited levels of categories. The content can then be presented and filtered by any combination of categories in as many module instances as desired and made available publicly or by subscription. Content layout can be further customized via XSL and CSS. Articles can be published and archived on set date. New and Featured icons can be set for display by date.
The module provides rating and commenting functionality for an interactive experience. A variety of roles such as Subscriber, Author, Approver and Publisher can be defined and linked to native DNN roles. You may also share content across DNN parent and child portals. The module is fully localized and seamlessly integrates with DNN search.
Remember, "content is king" and Content Builder Pro will get you on the throne fast and easy.
Module Details
DNNMasters Content Builder Pro consists of the following modules:
| | |
| --- | --- |
| • | Content Builder Admin (CB.Admin) |
| | |
| --- | --- |
| o | manage authors (picture, bio, etc) |
| | |
| --- | --- |
| o | bind category to a particular Full View instance |
| | |
| --- | --- |
| ▪ | bind categories to FullView instances |
| | |
| --- | --- |
| ▪ | configure email subscriptions |
| | |
| --- | --- |
| • | Content Builder List View (CB.ListView) |
| | |
| --- | --- |
| o | pre configure category for display |
| | |
| --- | --- |
| o | HTML templates per instance |
| | |
| --- | --- |
| o | custom css file per instance |
| | |
| --- | --- |
| • | Content Builder Full View (CB.FullView) |
| | |
| --- | --- |
| o | SEO insert article title in page Title tag |
| | |
| --- | --- |
| o | customize layout via XSL file |
| | |
| --- | --- |
| o | comment article (optional, permissions) |
| | |
| --- | --- |
| o | rate article (optional, permissions) |
| | |
| --- | --- |
| o | author short bio (optional) |
| | |
| --- | --- |
| • | Content Builder Single View (CB.SingleView) |
| | |
| --- | --- |
| o | inject article title into module title |
| | |
| --- | --- |
| • | Content Builder Article Browser (CB.ArticleBrowser) |
| | |
| --- | --- |
| ▪ | select / add thumbnail image to appear on ListView |
| | |
| --- | --- |
| ▪ | add external link (source info, etc) |
| | |
| --- | --- |
| ▪ | set Featured expiry date |
| | |
| --- | --- |
| ▪ | select portals to publish on |
| | |
| --- | --- |
| ▪ | insert External SQL data |
| | |
| --- | --- |
| • | Content Builder Author Browser (CB.AuthorBrowser) |
| | |
| --- | --- |
| o | browse authors and articles |
| | |
| --- | --- |
| o | rich search and display options |
| | |
| --- | --- |
| • | Content Builder Ticker (CB.Ticker) |
| | |
| --- | --- |
| • | Content Builder Email Subscriptions (CB.EmailSubscription) |
| | |
| --- | --- |
| o | subscribe to new content by category |
| | |
| --- | --- |
| • | Content Builder External Content (CB.ExternalSources) |
| | |
| --- | --- |
| o | select by query, map and display SQL data in CB articles |
Road Map
| | |
| --- | --- |
| o | Telerik RAD Editor built into the module |